A book blogger meme hosted by Bookshelves and Paperbacks blog where the three main categories are:
A diverse book you have read and enjoyed
A diverse book that has already been released but you have not read
A diverse book that has not yet been released
Again, I'm going to try and find books that haven't been widely recced so it's not the same books being seen over and over again.
Book I Read and Enjoyed
Fate and fortune. Power and passion. What does it take to be the queen of a kingdom when you're only seventeen?
Maya is cursed. With a horoscope that promises a marriage of death and destruction, she has earned only the scorn and fear of her father's kingdom. Content to follow more scholarly pursuits, her whole world is torn apart when her father, the Raja, arranges a wedding of political convenience to quell outside rebellions. Soon Maya becomes the queen of Akaran and wife of Amar. Neither roles are what she expected: As Akaran's queen, she finds her voice and power. As Amar's wife, she finds something else entirely: Compassion. Protection. Desire…
But Akaran has its own secrets—thousands of locked doors, gardens of glass, and a tree that bears memories instead of fruit. Soon, Maya suspects her life is in danger. Yet who, besides her husband, can she trust? With the fate of the human and Otherworldly realms hanging in the balance, Maya must unravel an ancient mystery that spans reincarnated lives to save those she loves the most…including herself.
The Star-Touched Queen was a lovely book, told with beautiful imagery that made it even more like a fairytale. Although I knew the myth it was retelling, I still didn't know where it was going to go and there was always a lot going on in the book. I feel like I could go back and re-read it now and find several things I missed the first time around in my eagerness to finish it. Highly recommended.
Book That Has Been Released But I Haven't Read It

At seventeen, Norah has accepted that the four walls of h
er house delineate her life. She knows that fearing everything from inland tsunamis to odd numbers is irrational, but her mind insists the world outside is too big, too dangerous. So she stays safe inside, watching others' lives through her windows and social media feed.
But when Luke arrives on her doorstep, he doesn't see a girl defined by medical terms and mental health. Instead, he sees a girl who is funny, smart, and brave. And Norah likes what he sees.
Their friendship turns deeper, but Norah knows Luke deserves a normal girl. One who can walk beneath the open sky. One who is unafraid of kissing. One who isn't so screwed up. Can she let him go for his own good—or can Norah learn to see herself through Luke's eyes?
It's been described as similar to Everything, Everything but better. A lot of people have recced this book and I've heard the subject matter is treated in a sensitive manner. Plus the summary sounds really interesting.
Book That Hasn't Been Released Yet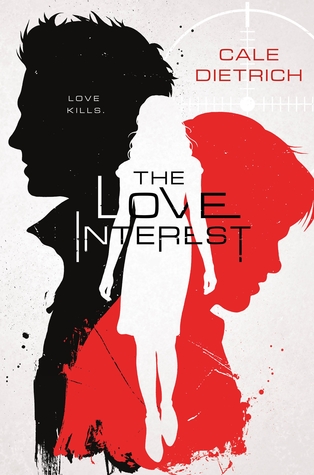 There is a secret organization that cultivates teenage spies. The agents are called Love Interests because getting close to people destined for great power means getting valuable secrets.
Caden is a Nice: The boy next door, sculpted to physical perfection. Dylan is a Bad: The brooding, dark-souled guy, and dangerously handsome. The girl they are competing for is important to the organization, and each boy will pursue her. Will she choose a Nice or the Bad?
Both Caden and Dylan are living in the outside world for the first time. They are well-trained and at the top of their games. They have to be – whoever the girl doesn't choose will die.
What the boys don't expect are feelings that are outside of their training. Feelings that could kill them both.
Basically, the book world has heard my annoyance at love triangles, especially when I complain that the two guys have more chemistry with each other than with the main girl, and given me this book. I can't wait!
Spotlight
Last time, I did a spotlight on some other diversity spotlight Thursday posts, partly for my own record but also to make sure people were aware of other options out there, as each book blogger will have a different version of these posts. I always end up adding so many more books to my TBR when I look through other posts. None of these posts are recent (as in this week) and are linked below, just in case you missed them the first time!
Huntress of Diverse Books (special mention to Kindred, which I don't think is recced enough)