This blog meme happens every Friday, hosted by Freda's Voice, where you share an excerpt of a book you've read.
Rules:
*Grab a book, any book.
*Turn to page 56 or 56% in your eReader
(If you have to improvise, that's ok.)
*Find any sentence, (or few, just don't spoil it)
*Post it.
*Add your (url) post below in Linky. Add the post url, not your blog url.
*It's that simple.
I've gone for Gives Light by Rose Christo which is my favourite book this week!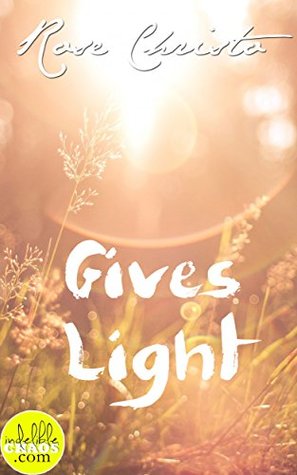 The light from the fire danced over their faces with clarity, but Rafael's was expressionless, Annie's heartbreaking. Rafael said something more; and then Annie broke down, shoulders rippling, and barreled into his arms. It took Rafael maybe two seconds before he hugged her back.
This book focuses on Skylar after his father disappears on him and he has to go back to the reservation where his mother was murdered eleven years ago. I've had this on my Kindle Unlimited list for a while but the cover didn't grab me and I tend to forget the summary after a little while. I decided to give it a go rather than return it and I'm so glad I did. I don't know whether it's because I don't read a lot of contemporary, but I always find the teenagers are very angry and quite reckless in their behaviour because of what they've gone through. That's not a bad thing, it's understandable that some people deal with bad stuff like that, but it was a nice change to get Skylar the optimist even as his life was spiraling out of control.
I just felt happy reading this book and I definitely want to read the rest of the series.
"Skylar is my name, tragically."
Sixteen-year-old Skylar is witty, empathetic, sensitive–and mute. Skylar hasn't uttered a single word since his mother died eleven years ago, a senseless tragedy he's grateful he doesn't have to talk about.
When Skylar's father mysteriously vanishes one summer afternoon, Skylar is placed in the temporary custody of his only remaining relative, an estranged grandmother living on an Indian reservation in the middle of arid Arizona.
Adapting to a brand new culture is the least of Skylar's qualms. Because Skylar's mother did not die a peaceful death. Skylar's mother was murdered eleven years ago on the Nettlebush Reserve. And her murderer left behind a son.
And he is like nothing Skylar has ever known. Summary from Goodreads