This blog meme happens every Friday, hosted by Freda's Voice, where you share an excerpt of a book you've read.
Rules:
*Grab a book, any book.
*Turn to page 56 or 56% in your eReader
(If you have to improvise, that's ok.)
*Find any sentence, (or few, just don't spoil it)
*Post it.
*Add your (url) post below in Linky. Add the post url, not your blog url.
*It's that simple.
I've chosen The Perilous Life of Jade Yeo.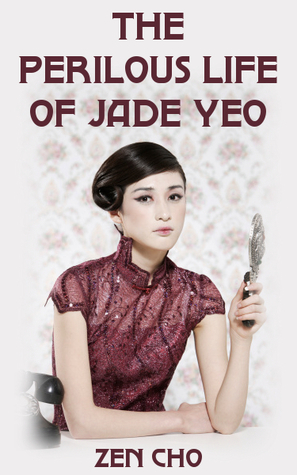 They are amusing, but they are not real. It would be like forswearing rice, and only eating cake for the rest of my life. I couldn't do it.

My parents would point out that I should have thought about that before I engaged in an educational liasion with Hardie.
This book is short and sweet, though I wouldn't have minded if the book had been twice as long because I wanted more of Jade Yeo and her very funny diary. It was so hard picking a quote that wouldn't spoil everything in the book but it's definitely good to go into this book without knowing what you would expect.
For writer Jade Yeo, the Roaring Twenties are coming in with more of a purr — until she pillories London's best-known author in a scathing review. Sebastian Hardie is tall, dark and handsome, and more intrigued than annoyed. But if Jade succumbs to temptation, she risks losing her hard-won freedom — and her best chance for love. Summary for Goodreads