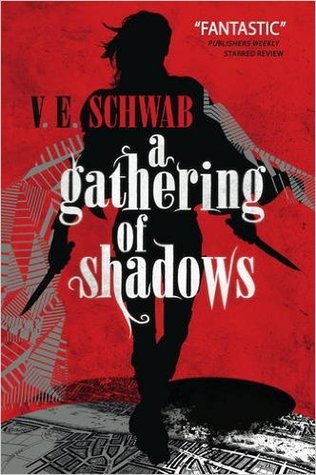 Four months have passed since the shadow stone fell into Kell's possession. Four months since his path crossed with Delilah Bard. Four months since Rhy was wounded and the Dane twins fell, and the stone was cast with Holland's dying body through the rift, and into Black London.
In many ways, things have almost returned to normal, though Rhy is more sober, and Kell is now plagued by his guilt. Restless, and having given up smuggling, Kell is visited by dreams of ominous magical events, waking only to think of Lila, who disappeared from the docks like she always meant to do. As Red London finalizes preparations for the Element Games—an extravagant international competition of magic, meant to entertain and keep healthy the ties between neighboring countries—a certain pirate ship draws closer, carrying old friends back into port.
But while Red London is caught up in the pageantry and thrills of the Games, another London is coming back to life, and those who were thought to be forever gone have returned. After all, a shadow that was gone in the night reappears in the morning, and so it seems Black London has risen again—meaning that another London must fall.
I've been putting off reviewing this book because, compared to everyone else I follow, I am definitely not going to rate this book five stars. Actually, this review may turn into a bit of a rant, so I'm sorry about that.
All the things I loved: Kell and Rhy's changing relationship, their guilt about each other being bound together, Kell's hurt over the King and Queen looking at him first as an Antari, then as a son. All of these things were fabulous, nothing from the last book was brushed under the rug. Kell was now under suspicion and you could tell it hurt Rhy just as much to see his brother hurting, especially when it was his own parents doing the hurting. Them being in a platonic soul bond, bound together forever, while neither of them wanted it was a really fascinating dynamic.
Speaking of fascinating dynamics, I was disappointed when we didn't see more of Holland and Kell interacting together. The two of them being the only ones of their kind left in their world, but having such different backgrounds, and them having the strange kind of need-you-but-don't-like-you relationship was great to me and I wish we could have seen more of it in the second book. We didn't see enough of Holland in the first place, I think. He's a great antagonist and I love his and Kell's complicated relationship.
Alucard is exactly what I would expect from a pirate captain and him having his own magic and masks was something I could have quite happily seen explored. The past history he had with Kell and Rhy made me wince even as I wanted to know more. I was really glad, in his and Rhy's relationship, to see that Rhy wasn't the only one invested. There was a scene, where the two of them are alone, and it's obvious that Rhy missed Alucard but it's equally obvious, to both characters and reader, that Alucard missed Rhy just as much. That was really important to me because if it had been unequal, like if Alucard had been dismissive or casual in how he treated Rhy, I don't think I could have been as happy with the relationship as much as I did.
The world-building in general was still top notch and although the main plot about the magical competition took a long time to get going, it was really interesting to see the different countries in the world of Red London and how the politics intersected. In the first book, it really concentrated on the different Londons and how they interplayed but in this book, the focus was more on the different types of magic and the different countries in the Red London world. I liked the change and I was so glad to see the world explored.
Now, if you were looking at everything above, you wouldn't be wrong to say I was tempted to give A Gathering of Shadows four and a half, maybe five, stars. But then we came to the reason why it took me over two months to finish this book and why I couldn't like it as much as the first one. Lila Bard. I hate disliking the only main female character in the books as much as this but Lila makes me want to put the book down because I can't shake a book character. We'll skip right past the romance between her and Kell, because I think they have no chemistry and they really aren't suited for Happily Ever After between the two of them and I dislike having the romance being shoved down my throat as such.
I dislike how we're supposed to really like Lila because she's this cross-dressing pirate thief and, oh look, she's suddenly as good at magic as Alucard and Kell. It felt like a bunch of tropes that I do like were just pasted onto the character and nothing of substance was put there to back it up. Lila as an amoral anti-hero, the person who helps the protagonist when it suits her, would have suited me perfectly. Lila as this good protagonist who we're supposed to like doesn't work for me at all. Her doing reckless shit to make herself feel alive is a flaw and I hate how it's not treated as such. She didn't need to join the bloody competition, there was no reason for her to break the rules and endanger Alucard and Kell (as she was warned numerous times). Nothing was on the line, she just wanted to take part in the competition to see if she could. Waiting another year – oh no, not for Lila Bard who wants to live life to the full and damn the consequences to anyone else.
Lila was in this book more than any other character, probably even Kell as well, and when I got to her parts, I just stalled. She annoys me so much and I don't think I would hate it quite so much if I wasn't made to feel like I should love her.
Three stars and a general reluctance to read the next book in the series.