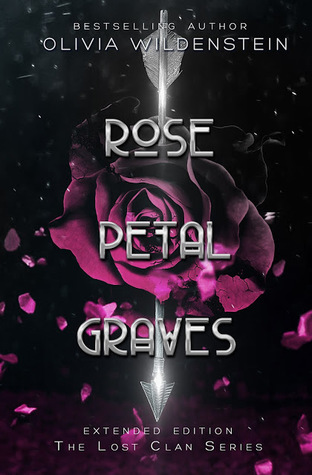 Ancient secrets cannot remain buried forever.
Founded two centuries ago by a powerful tribe of Gottwa Indians, Rowan was a quiet town, so quiet that I fled after graduation. Staying away was the plan, but Mom died suddenly.
Dad said she suffered a stroke after she dug up one of the ancient graves in our backyard, which happens to be the town cemetery. Creepy, I know. Creepier still, there was no corpse inside the old coffin, only fresh rose petals.
As we made preparations for Mom's burial, new people began arriving in Rowan, unnervingly handsome and odd people. I begged them to leave, but they stayed, because their enemies—my ancestors—were beginning to awaken.
I have to be completely honest here: if this book wasn't sent to me on NetGalley in exchange for a review, I probably would have DNFed it. Not officially but I would have wandered off to read other things and never really returned. I'm glad I didn't because the ending was far better than the beginning but it's there all the same.
The thing with this book is that the world-building was great. I loved the whole world behind it with the fae and the hunters and the revelation that sprung up about Catori's own ancestry. The history behind the plot was interesting to read about with the stories passed on and the fae book. It interwove with the plot really well and although Catori didn't know much about her own past, I didn't feel annoyed with everyone for not telling her. The process of her receiving information about her friends and family felt natural to me. It wasn't an info dump, it wasn't people keeping vital information about herself from her for 'her own good', you got just enough information to keep the mystery going. The magic system was interesting as well, limited but still powerful. It's no fun if someone can do magic without any cost and the cost of reviving the ancestors was a steep one. I wish there hadn't been the memory changing ability because I think it was a cop out at times but it didn't aggravate me too much.
The big things that let the book down were the characters and the romance. I know Catori was nineteen but some of the things she did were so illogical and made no sense to how she had previously been as a person in the books that you could tell she was doing it for the sake of the plot, not because that is how her character was. Like the wind chime and the necklace, especially the necklace. I couldn't get a handle on Catori's character at all, she seemed to flip between rational and irrational at the drop of a hat and not for any good reason. I know she was grieving and I adored the part where she dials her mum on speed dial because that was such a realistic part of grief, but I couldn't get a handle on it. People kept telling her she was kind but we didn't see any evidence that she was especially kind in the book. I didn't like how she trusted Cruz when it was incredibly obvious that she shouldn't but it was understandable because she was 19 with a crush. Blake on the other hand was so incredibly annoying. We heard about his 'noble heart' and how much he loved Catori but all I saw was him being jealous and possessive and it drove me up the wall. I was glad when he left the story and I shouldn't feel that.
Like I said, the ending was far better than the beginning but I still probably wouldn't recommend unless you liked paranormal romances and could put up with a lot of rubbish from the characters. I would say 2.5 stars but I can't do that so two stars it is just because of how much it was a slog to get through this book.