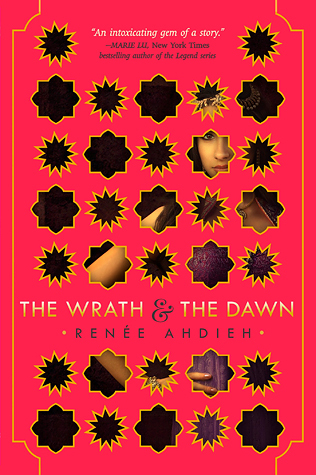 One Life to One Dawn.
In a land ruled by a murderous boy-king, each dawn brings heartache to a new family. Khalid, the eighteen-year-old Caliph of Khorasan, is a monster. Each night he takes a new bride only to have a silk cord wrapped around her throat come morning. When sixteen-year-old Shahrzad's dearest friend falls victim to Khalid, Shahrzad vows vengeance and volunteers to be his next bride. Shahrzad is determined not only to stay alive, but to end the caliph's reign of terror once and for all.
Night after night, Shahrzad beguiles Khalid, weaving stories that enchant, ensuring her survival, though she knows each dawn could be her last. But something she never expected begins to happen: Khalid is nothing like what she'd imagined him to be. This monster is a boy with a tormented heart. Incredibly, Shahrzad finds herself falling in love. How is this possible? It's an unforgivable betrayal. Still, Shahrzad has come to understand all is not as it seems in this palace of marble and stone. She resolves to uncover whatever secrets lurk and, despite her love, be ready to take Khalid's life as retribution for the many lives he's stolen. Can their love survive this world of stories and secrets?
I didn't know what to expect for this book, I liked the sound of the summary but wasn't sure whether I would like the actual book, especially when a love triangle shows up in the first few chapters of the book. But I loved it.
The characters were all interesting and varied, woven together in ways you didn't quite understand until you read a chapter with a different POV and you would go 'oh, that's where I know them from'. I really liked Shahrzad's arc where she starts to learn about the reasons behind what Khalid did and how she starts to learn how to trust and love Khalid. I think the arc was done at the right speed, not rushing it too much but not having Shahrzad so stubborn that she is refusing to change, which can be annoying if done wrong. And it was for this reason that I liked the romance between Shahrzad and Khalid because it felt like there was some grounding for it. It definitely wasn't insta-love and their slow burn was at the right pace to build the foundation of their relationship without getting so slowly that the reader got fed up.
The world was beautiful, described in such a way that you could imagine yourself in the desert with them. If it ever gets made into a film, I hope that they manage to capture the bright clothing and intricate details that were in this book. I would have liked to see this fantasy Kingdom and the fact that it is not medieval European, like a lot of fantasy is made the setting far more unique than it would have been.
The plot of this book had me guessing the whole time, especially with everything that went on with Shahrzad's father and the reason why Khalid did what he did, and I really enjoyed reading the whole thing. I can safely say that I am eager and happy to read the sequel, this is not one book where I am comfortable putting it down as a stand-alone. As soon as I get a copy of The Rose and the Dagger, I will be reading it.
Five stars!