I saw this tag so many times on Booktube and it looked like such a fun idea, but I didn't have a Booktube channel so I thought it wasn't for me. But now I have so many books that I want to read and I have no idea which one to start with first. I thought this was a good way to get me to prioritise the next book I'm going to read and help me find exactly what makes a first chapter so good (considering that is what I'll be working on with my own novel in June).
England, 1882. Evelyn is bored with society and its expectations. So when her beloved sister, Rose, mysteriously vanishes, she ignores her parents and travels to London to find her, accompanied by the dashing Mr. Kent. But they're not the only ones looking for Rose. The reclusive, young gentleman Sebastian Braddock is also searching for her, claiming that both sisters have special healing powers. Evelyn is convinced that Sebastian must be mad, until she discovers that his strange tales of extraordinary people are true—and that her sister is in graver danger than she feared.
First chapter thoughts: At first I thought I was going to be bored stiff by this book. There's a heroine who hates dances and balls and is uninterested in finding a husband in the Regency era. How original, that's never been done before. But then this chapter surprised me by making the handsome, Byronic character so unbelievably awkward (he dropped her!) and made the heroine actually funny. She doesn't see anything wrong with her sister finding a nice guy to dance with, she pats a pot plant in the middle of a ball and has some delightful banter with a guy who seems to be a possible love interest. I sniggered several times, not going to lie.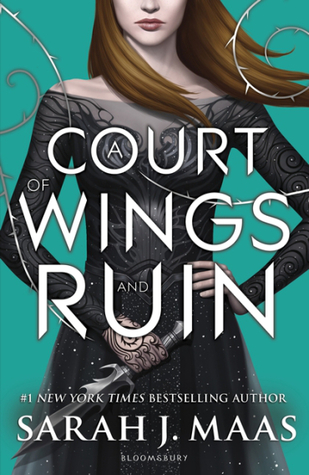 Feyre has returned to the Spring Court, determined to gather information on Tamlin's manoeuvrings and the invading king threatening to bring Prythian to its knees. But to do so she must play a deadly game of deceit – and one slip may spell doom not only for Feyre, but for her world as well.
As war bears down upon them all, Feyre must decide who to trust amongst the dazzling and lethal High Lords – and hunt for allies in unexpected places.
First chapter thoughts:  Well, I can safely say that I wish I had reread Court of Mist and Fury more recently than January because some of this stuff is going over my head. I like this Feyre far more than the one in the first book though, but I love female characters that are assumed to be incompetent and secretly having claws. It's a good first chapter, the action gets started right away and it makes you want to read on and find out what happens next.

Bryn Reyes is a real life sleeping beauty. Afflicted with Klein-Levin Syndrome, she suffers episodes of prolonged sleep that steal weeks, and sometimes even months, from her life. But unlike most KLS patients, she doesn't spend each episode in a catatonic state or wake up with no recollection of the time she's missed. Instead, Bryn spends half her life in an alternate reality made up of her memories. For Bryn, the past is a place, until one day a boy she's never met before washes up on the illusory beach of her dreams with no memory of who he is.
But the appearance of this strange boy isn't the only thing that's changed. Bryn's symptoms are worsening, her body weakening as she's plagued by hallucinations even while awake. Her only hope of finding a cure is to undergo experimental treatment created by a German specialist. But when Dr. Banz reveals that he knows more about her strange symptoms than he originally let on, Bryn learns that the boy in her head might actually be the key to understanding what's happening to her, and worse, that if she doesn't find out his identity before it's too late, they both may not survive.
First chapter thoughts: The syndrome the main character has sounds hellish but we didn't get much about the boy in her dream, which is meant to be the focus of the book. She doesn't think about him that much either considering how weird it is that he showed up in her dream, despite them never having met before. Her mum is Native American but it's mentioned in a really weird way. Like when Bryn says that her mum likes to listen to music, she says 'Native American music'. I thought that she would at least name the tribe that her and her mum are from, rather than grouping everyone together. I'm not Native but it pings me as odd. Plus, the book made a special point of saying that Bryn doesn't have the dark skin like the rest of her family which is weird right? Despite all this, I do want to read on.
A fairly meh first chapter but the summary still makes me interested enough to check it out.

As an orphan ward of the Sisterhood, eighteen-year-old Kalinda is destined for nothing more than a life of seclusion and prayer. Plagued by fevers, she's an unlikely candidate for even a servant's position, let alone a courtesan or wife. Her sole dream is to continue living in peace in the Sisterhood's mountain temple.
But a visit from the tyrant Rajah Tarek disrupts Kalinda's life. Within hours, she is ripped from the comfort of her home, set on a desert trek, and ordered to fight for her place among the rajah's ninety-nine wives and numerous courtesans. Her only solace comes in the company of her guard, the stoic but kind Captain Deven Naik.
Faced with the danger of a tournament to the death—and her growing affection for Deven—Kalinda has only one hope for escape, and it lies in an arcane, forbidden power buried within her.
First chapter thoughts:  Well, that ended abruptly. Not a cliffhanger, just sort of stopped. I liked the world building and the temple and the main character and her best friend, but it's not a book where I want to find out what happens next straight away. I'm curious and I want to read it, just not that much. Not to mention how the main character is apparently 'better' because she doesn't want to leave the temple with some benefactor and the girls who do seem to be the 'mean' ones. Not the best first impression.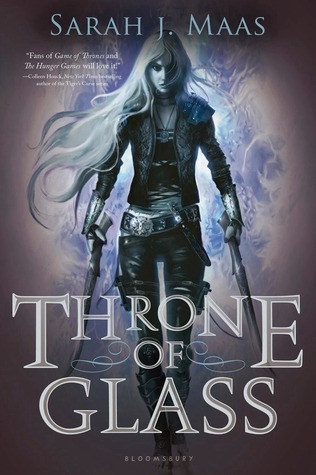 In a land without magic, where the king rules with an iron hand, an assassin is summoned to the castle. She comes not to kill the king, but to win her freedom. If she defeats twenty-three killers, thieves, and warriors in a competition, she is released from prison to serve as the king's champion. Her name is Celaena Sardothien.
The Crown Prince will provoke her. The Captain of the Guard will protect her. But something evil dwells in the castle of glass–and it's there to kill. When her competitors start dying one by one, Celaena's fight for freedom becomes a fight for survival, and a desperate quest to root out the evil before it destroys her world.
First chapter thoughts: This chapter was interesting enough. Tropey but in a way that I like. Celaena (holy crap that name is going to annoy me, what's wrong with Selina) is an assassin who likes killing people. Confident, competent, not too annoying.  Did you have to mention she was pretty though? Really.? Next you're going to convince us that she doesn't care about her looks at all because only shallow girls do.
Decision
Going completely on first chapters and not pretty covers or interesting blurbs, I think I'm going to read These Vicious Masks next. Yes, not a lot of action happened in the first chapter but I found the main character engaging and it was fun to read after I read four different first chapters. Review to come!
I'm not sure whether to tag anyone or not, considering I wasn't tagged for this post, but if you're reading this and you want to try out the idea, consider yourself tagged!