Top Ten Tuesday is a weekly blog theme started by The Broke and the Bookish. I've chosen to do the contemporary genre this week because I've added some really great books to my TBR in the contemporary genre recently.

This book has been highly recced by several bloggers and Booktubers. It's about a Mexican woman (girl? I'm unsure how old she is) whose sister dies unexpectedly and it's only after her death that Julia starts to realise Olga wasn't so perfect after all.
This book is set in Australia and is a political book, there's no getting around that. I was a bit wary of this book because it's labelled as a romance and the main male character's parents belongs to a racist group called Aussie Values and the main female character is a refugee. However, the book does seem to be own voices from Mina's POV and it has been highly recced. I got it recently so I'm hoping to read it soon.

This book is about a woman from the Phillippines (not America!) who gets her friend to pretend to be her fake boyfriend so she doesn't have to deal with the comments from her extended family about her weight and her lack of boyfriend. Normally I don't like fake dating kind of tropes, or I tread warily about them, but this seems really cute and it's been highly recced.
This book has been on my TBR for a while and I keep hoping I will end up reading it. This book is about Amanda who has just started a new school. She's trans and she doesn't want anyone to know at her new school. It's been so highly recced and I want to get to it!

This book is on my TBR list for one of the readathons this month so I'll think I'll get to it this month. Plus it's quite short which is always good for a readathon. This book is a sweet contemporary romance according to the reviews, plus the main character is pansexual! Possibly an own voices book but the author does not want to disclose their sexuality so no way to know for sure.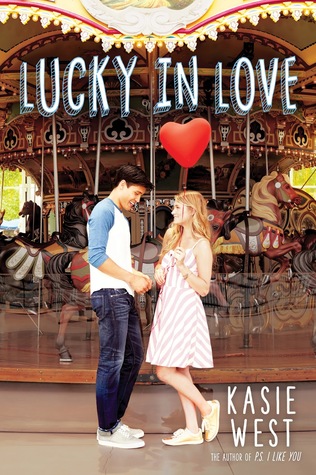 This book is about a girl who wins the lottery and has to deal with everyone knowing about it (if I won the lottery I would tell no one at all). It's an interesting premise plus Kasie West is a highly recced author and I still haven't read any of her books.
This book is about a boy who doesn't speak and the girl he meets one day that brings him out of his shell. Apparently the girl is a bit Manic Pixie Dream Girl but somehow the author makes it work? I got this free on Kindle and I've been meaning to read it for a while.
This book is about a girl raised by her father and her four older brothers who starts working at a boutique shop. According to the reviews, it's about Charlie realising that she can still enjoy sports and be a tomboy, while at the same time liking make-up and girly things. And confiding through the fence with the boy next door. Another Kasie West book and one I hope I would like!
This book is about Juliet, who goes to intern with her favourite author and find her identity as a woman of colour and a lesbian. This was highly recced when it came out and now I've got a free copy from NetGalley, I really should get to reading it.
This is about a woman who is fed up with her extended family nagging her about finding a boyfriend (sound familiar?) and instead comes up with a scientific method of finding the perfect boyfriend. Enter the complete opposite.
This sounds a really fun romance, plus it's set in the Philippines and is an #ownvoices book as well. It's also another book I own, but I just have to get around to reading it!
So, there's my Top Ten Tuesday post! I own eight of these books so hopefully these books will move onto my read list rather than my to be read one sooner rather than later. Anyone else read any of these books? What do you think?