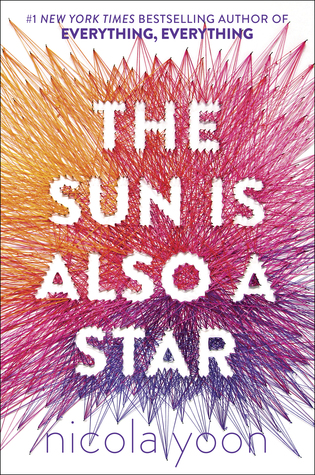 Natasha: I'm a girl who believes in science and facts. Not fate. Not destiny. Or dreams that will never come true. I'm definitely not the kind of girl who meets a cute boy on a crowded New York City street and falls in love with him. Not when my family is twelve hours away from being deported to Jamaica. Falling in love with him won't be my story.
Daniel: I've always been the good son, the good student, living up to my parents' high expectations. Never the poet. Or the dreamer. But when I see her, I forget about all that. Something about Natasha makes me think that fate has something much more extraordinary in store—for both of us.
The Universe: Every moment in our lives has brought us to this single moment. A million futures lie before us. Which one will come true?
Normally when I read a book, I look at the summary on Goodreads and skim read the reviews. More than once I've been spoiled in a review that wasn't marked with spoilers so now I skim the ratings and the first part of the review on show and then read them properly after I finish the books. For this book, a lot of the reviews mentioned insta-love and I could see that. But then the ending made everything okay for me. This book has been really hyped up and for me, this book completely lived up to it.
The main characters, Natasha and Daniel, are really interesting. I love how well-rounded each of them are, how they have their strengths and flaws, how they play off each other, how their relationships with their families are so complicated and how they have their own dreams. I loved their romantic relationship, I actually believed they liked each other and were attracted to each other. I thought it was a little fast but at the same time, it suited Daniel's character really well. He was a dreamer so him saying 'love' on the same day as meeting Natasha made perfect sense to me. It was way too soon but it suited Daniel and the two of them being teenagers.
I loved the plot. It kept surprising me and I didn't know where it would go next. To have that business with the lawyer (God, I think he's selfish) and having that hope spot, only for it to change. It was really good and I didn't actually believe the ending until it happened. I loved the last part of the book with Natasha and Daniel on the plane, it was just the perfect ending.
The way this book was written with the switch of POVs could be annoying but it actually kept the book moving at a fast pace. I really liked the asides of the security guard, the waitress and Irene and their opinion on Natasha and Daniel, I felt like it made the world even bigger, especially since the book is set over the course of one day.
Five stars for this book and I would definitely recommend it!