A book blogger meme hosted by Bookshelves and Paperbacks blog where the three main categories are:
A diverse book you have read and enjoyed
A diverse book that has already been released but you have not read
A diverse book that has not yet been released
Book I Read
Before Mina, my life was like a completed jigsaw puzzle but Mina has pushed the puzzle onto the floor. I have to start all over again, figuring out where the pieces go.
When Michael meets Mina, they are at a rally for refugees – standing on opposite sides.
Mina fled Afghanistan with her mother via a refugee camp, a leaky boat and a detention centre.
Michael's parents have founded a new political party called Aussie Values.
They want to stop the boats.
Mina wants to stop the hate.
When Mina wins a scholarship to Michael's private school, their lives crash together blindingly.
I really liked this book. I didn't give it five stars because of spoilery reasons but I did enjoy it. The romance was the focus of the story but Michael and Mina's families were equally important in this book, as well various friendships and how to deal with people who have opposing views to you. I would definitely recommend!
Book on my TBR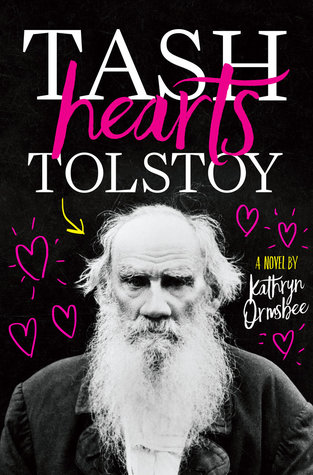 After a shout-out from one of the Internet's superstar vloggers, Natasha "Tash" Zelenka finds herself and her obscure, amateur web series, Unhappy Families, thrust into the limelight: She's gone viral.
Her show is a modern adaptation of Anna Karenina—written by Tash's literary love Count Lev Nikolayevich "Leo" Tolstoy. Tash is a fan of the forty thousand new subscribers, their gushing tweets, and flashy Tumblr GIFs. Not so much the pressure to deliver the best web series ever.
And when Unhappy Families is nominated for a Golden Tuba award, Tash's cyber-flirtation with Thom Causer, a fellow award nominee, suddenly has the potential to become something IRL—if she can figure out how to tell said crush that she's romantic asexual.
Tash wants to enjoy her newfound fame, but will she lose her friends in her rise to the top? What would Tolstoy do?
I love The Lizzie Bennet Diaries so I can't wait to read this book about Tash and the adaptation of Anna Karenina (note to self: read Anna Karenina). Plus ace representation is always appreciated.
Book Not Yet Released

A GOD OF WAR SEEKING RESTORATION.
AN UNWILLING SACRIFICIAL BRIDE.
BETRAYAL THAT COULD DESTROY THEM BOTH.
"[E]very fibre of my being is woven from the rage of mortals."
Theodric, the young God of War, has a talent for inciting conflict and bloodshed. After being stripped of his powers by his older brother, King of Gods, he sets out to instigate a mortal war to prove himself worthy of being restored to power.
"I loved Kisk once; it was my home… But that was before. This is now."
Sixteen-year-old Cassia, like many in the modern era, believes gods and goddesses to be just a myth. Enemy to her country and an orphan of the war, she has no time for fairy tales. That's until religious zealots from Theo's sect offer her up as a sacrifice.
Can Cassia and Theo end the mortal war and return balance to the earth and heavens? Or, will their game of fate lead down a path of destruction, betrayal, and romance neither of them saw coming?
This summary sounds really interesting with gods and goddesses and evil cults. Apparently there's a really good twist as well? Plus, look at that gorgeous cover. So pretty.
Spotlight