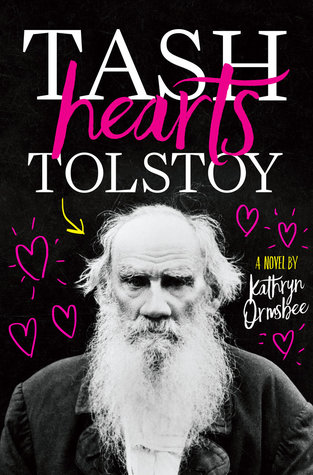 After a shout-out from one of the Internet's superstar vloggers, Natasha "Tash" Zelenka finds herself and her obscure, amateur web series, Unhappy Families, thrust into the limelight: She's gone viral.
Her show is a modern adaptation of Anna Karenina—written by Tash's literary love Count Lev Nikolayevich "Leo" Tolstoy. Tash is a fan of the forty thousand new subscribers, their gushing tweets, and flashy Tumblr GIFs. Not so much the pressure to deliver the best web series ever.
And when Unhappy Families is nominated for a Golden Tuba award, Tash's cyber-flirtation with Thom Causer, a fellow award nominee, suddenly has the potential to become something IRL—if she can figure out how to tell said crush that she's romantic asexual.
Tash wants to enjoy her newfound fame, but will she lose her friends in her rise to the top? What would Tolstoy do?
I mentioned this book on one of my Diversity Thursday posts as about a creator of webseries like The Lizzie Bennet Diaries, except it's an adaptation of Anna Karenina instead, where the main character, Tash, was asexual. And the word is actually used, not just hinted around. I liked this book, but it didn't blow me away.
The characters are okay enough, they felt a little shallow at times and it felt like things got sorted out a little too easily (Klaudie for example) but I liked Tash well enough and I could see why she did the things she did, even if I didn't agree with all her choices. There isn't a love triangle in this book so much but there are two guys who like Tash/Tash likes back. Unfortunately, I don't think either of these guys were well-developed enough to be the love interest. Tash and Jack's friendship (Jack's a girl) was far more focused on and while I don't mind that so much (it was really great to see the both of them being so different and yet still being friends), I felt like the two male characters' development suffered for it. I don't want any scenes taken away from Jack, but I would have liked more scenes with Tash and the guys she liked.
I really loved the web series plot and how it was all set up. Tash and the others learning how to deal with fame, interviews, bad reviews were really good and some of my favourite scenes were ones with everyone in the cast just creating the webseries together. I don't know how accurate it is (that's my brother's area not mine) but I liked seeing how much work went into the series with the filming days and camera shots and editing.
The ace representation I felt was handled really nicely. It is shelved as own voices but I don't know whether that's true and I'm not going to dig too hard to find out. I loved how Tash explained being ace to Thom, Jack and Paul because it just hit everything on the head for me. As always, Tash is not representative of every ace person but I felt like she hit several things on the head for me. She talks about not getting why everyone is obsessed with it and thinking is everyone just faking it and basically every thought that has gone through my head at one point. I don't know how the representation for Buddhists or gay men is but the ace rep was spot on for me and a part of the book which really worked for me.
This book was good, both in terms of plot, characters and representation but it didn't blow me away. I felt like this book dragged a bit, it felt a lot longer than under 400 pages, but it was enjoyable nonetheless. 3.5 stars!