August was a good reading month for me in terms to books read and staying on my August TBR. There were some books I didn't manage to get to, most of the books on my TBR for the Tome Topple Readathon but I did get to read a few books that have been on Goodreads TBR for a while, like The Unexpected Everything, Crown of Ice and Underground Railroad. 
Books I Read
Favourite Book
I did read a lot of great books this month, and a lot of these were books that were either hyped or ones I was really looking forward to so that was good. However, I think the book I liked the most was The Long Way to a Small Angry Planet. It was exactly my kind of book and my review for it is here.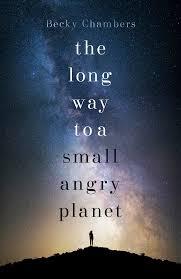 Least Favourite Book
This was actually really hard to decide, which is a sign of a good reading month I think! The lowest rating I gave to a book this month was to A Family Affair which I rated three stars. I didn't regret reading it, but I probably wouldn't recommend it and it was overall a meh book to me.
Reading Challenge Update
I did so many readathons this month. I finished Read Your E-reader Readathon, The Annual Harry Potter Readathon, Tome Topple Readathon and Alphabethon, most of which went very well. I didn't finish a book for Tome Topple but I did finally start Outlander, which I've been meaning to read for a while. Alphabethon and Read your Ereader went very well in terms of books read, although I didn't finish my TBRs for either of them. I also started #ReadingQuest which will continue into September and is going really well so far (I've finished the Mage path!).
I've done most of my yearly reading challenges like my Goodreads challenge, Flights of Fantasy and Mount TBR. I've got six squares left on my Diversity Bingo square to fill out before the end of the year but I've got a stack of books as high as me to get through, along with all my Kindle books so I think I can manage.
How was everyone else's August? Did you enjoy all the books you read? Have you read any of the books on my list? Let me know in the comments!