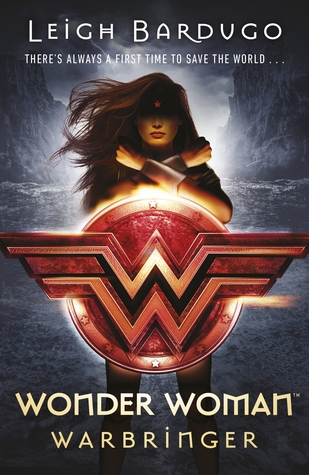 She will become a legend but first she is Diana, Princess of the Amazons. And her fight is just beginning…
Diana is desperate to prove herself to her warrior sisters. But when the opportunity comes, she throws away her chance at glory and breaks Amazon law to save a mere mortal, Alia Keralis. With this single heroic act, Diana may have just doomed the world.
Alia is a Warbringer – a descendant of the infamous Helen of Troy, fated to bring about an age of bloodshed and misery. Diana and Alia will face an army of enemies, mortal and divine, determined to destroy or possess the Warbringer.
To save the world, they must stand side by side against the tide of war.
This is a spoiler free review.
I got this book in my Illumicrate book box (unboxing here) and I was so excited when I saw it. Normally I get books that I have vaguely heard about, this is the first time I got a book that I have been actively wanting and was excited about. Plus it's a special edition with red pages, so it's even more exciting. I buddy read this with a friend who got the same book box as me and I can safely say that we both loved this book.
This is very much a quest book and I think that fits really nicely from the mythology viewpoint. Diana saves a mortal girl's life but she has saved the Warbringer who will bring about war and destruction. In order to save the world, Alia has to die and Diana and Alia aren't the only ones who know about this. I really don't want to say anymore due to spoilers. I loved the plot, I thought it had enough twists and turns to make it interesting and compelling and I found it hard to put it down (which I had to do since I was buddy reading it). There is something surprising that happens in the last quarter of the book and I found it really surprising but in the best way possible. All the clues were there, so it didn't come out of nowhere, but I didn't guess it which is everything I could ask for from a twist.
There are five major characters but only two main characters: Diana and Alia and the POV switches between the two of them. I love both of them and their friendship together is amazing – I would absolutely love to see a film of this book just so I could watch Diana and Alia together. The way they played off each other, the banter between them and how they disagreed sometimes but they always respected each other. The two of them didn't tell each other everything straight away but there was never hiding of vital information by the two of them – their relationship is solid and one of the best parts of this book. The other three major characters, Jason, Nim and Theo fit well into the group, and I love how all of them were scared and dealt with it in different ways. I love Nim and Theo especially because neither of them had to be there and they're human but they carry on anyway because they aren't going to leave Alia. I love loyalty like that in fiction and I loved how close the group became.
This book isn't own voices but the cast of characters is incredibly diverse. Alia and Jason are biracial – their mother was black and their father was Greek, Theo is Brazilian and Nim is Indian and a lesbian. I liked how the diversity was handled, it didn't define each character but it was a part of them. The book didn't shy away from racism or homophobia but the characters weren't reliant on stereotypes.
I would definitely recommend this book, I already want to reread it, and so I think I have to go with five stars!