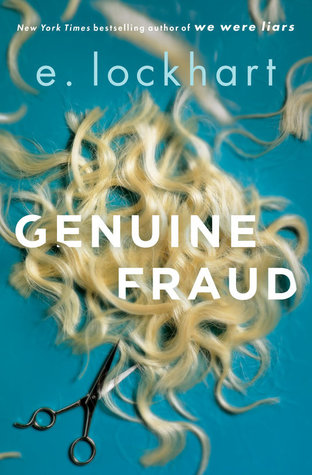 Imogen is a runaway heiress, an orphan, a cook, and a cheat.
Jule is a fighter, a social chameleon, and an athlete.
An intense friendship. A disappearance. A murder, or maybe two.
A bad romance, or maybe three.
Blunt objects, disguises, blood, and chocolate. The American dream, superheroes, spies, and villains.
A girl who refuses to give people what they want from her.
A girl who refuses to be the person she once was.
Summary from Goodreads, Amazon UK
It's been a long time since I requested this book and I can't remember why I requested this book, seeing as I was more frustrated with We Are Liars than intrigued and was wary about this author afterwards, but I'm happy to say my expectations were subverted. This is a really hard book to talk about in this review because anything I say about any of the characters or the plot could spoil something and this is definitely a book you want to go into unspoiled.
This book's protagonists are Imogen and Jule, two girls who are interconnected in several ways. Jule is a bit of a mystery, a girl with a dark past and we're never quite sure which story of hers is true, while Imogen is seemingly more open to the reader. This story is told backwards, giving us more and more pieces of the puzzle as it goes through the book.
This book has a non-chronological order, telling the story backwards, something which I have seen done badly, but this time it was done really, really well, showing us scenes of the past, paced really nicely to give us the information but not to dump it on our lap all at once. I didn't get confused (except for maybe once in the middle) because they were all connected with each other. The reader is left with thinking they know what is going on but, as the book goes on, they find out that isn't the case. The plot was done really nicely and I loved how it all fitted together in the end. This book would be a good one to reread so you can see what has to be worked out.
The main characters, Jule and Imogen, are not very nice people but they are great protagonists, uncovering hidden depths and layers to destroy the image of them we had from the first introduction. I disliked Jule as a person by the end but I really wanted her to succeed in her goal because that was just the kind of story that was being told. Despite seeing exactly how unreliable a narrator Jule was, you couldn't help but root for her. A sign of a great protagonist, I think!
I did find this book sagged a little in the middle, but this is a 4.5 star book for me and such a pleasant surprise after Lockhart's last book!